---
COURSE INFORMATION | CLASS INFORMATION| LEARNING MATERIALS| HINTS| SYLLABUS | LINKS
This is the last course of our program in the Russian language. It's purpose is to provide a transition from the three-semester basic course with the focus on grammar to the advanced level. Our emphasis will be on the practical aspects of the language: translation, conversation, and writing. Students who successfully complete this course will aquire the introductory level of Russian composition, intermediate skills in translation and conversation, and the active vocabularly of about 1,000 words.
---
1. Attendance: Class participation is a vital part of the learning process and will count for 30% of the final grade. Roll will be taken regularly. Students may take no more than five free cuts per semester. Any further absences, unless previously approved by the professor, may result in a loss of grade points. In case of emergencies, a written excuse should be presented. Since we have only three contact hours a week students are strongly advised to take advantage of the one-on-one tutoring during the office hours.
3. Grading policy: class performance--30%, written homework--20%, tests--20%, final--30%. The plus-minus system of grading will be used.
4. Examinations and tests.: There will be two major examinations (a midterm and a final). There will also be a number of short quizzes, announced and unannounced.
5. Make-up tests: There will be no make-ups except in extreme cases of illness or accident, and only upon consultation with the professor.
6. No cheating.
7. Written homework: Homework should be placed on the professor's desk at the end of each class on the due date.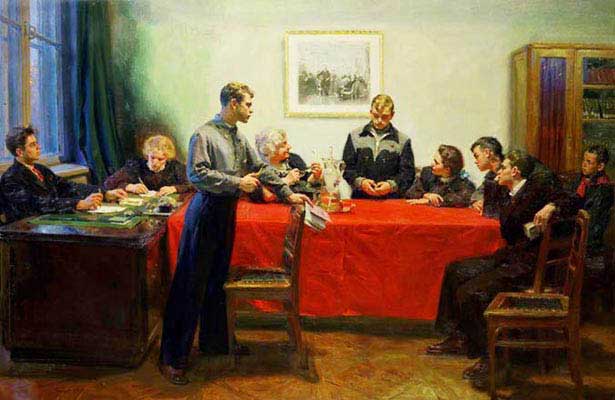 С. Григорьев. Обсуждение двойки. 1950.

---
Books and Other Learning Materials Required
Домик на болоте (Domik na bolote. Russian Packet), $3.
Links

"История торопится, а вы папиросы закуриваете."
Russian Interactive On-line Reference Grammar.
Internet Resources for Russian Studies (great resource!)
Sher's Russian Index (Internet and WWW Links)
Russian Culture (Daily Update)
Maps of Russia and FSU
Russian historical texts in English
History of USSR
Music
Painting
Index of Russian painters
Icons
Architecture
Photography
Art links
Virtual Tour of Russia
Moscow subway
Customs and Etiquette
Russian studies