I am an professor of Political Science at North Carolina State University in Raleigh, NC. My research interests are in psychological approaches to voting behavior, partisanship, and public opinion, especially with regards to gender differences, abortion, and the impact of parenthood. I am the co-author, with Laurel Elder, of The Politics of Parenthood: Causes and Consequences of the Politicization of the American Family.
I was born February 11, 1972 at Fairfax Hospital in Fairfax, Virginia. I spent my first eighteen years in Springfield, Virgina, about 20 miles south of Washinton, DC. I missed growing up "inside the beltway" by about a mile, but I was close enough to have a great fascination with politics and end up studying them for a living. I have an older brother and older sister as well as two younger sisters. I graduated from West Springfield High School in 1990. I spent the next four years at Duke University. I majored in Political Science and History. I graduated May 8, 1994 and married fellow Dukie, Kim Faw, three weeks later on May 28, 1994 in Burnsville, NC. We moved to Columbus, Ohio and began our respective graduate programs at Ohio State in September 1994. I received my PhD in June 1999 and Kim received hers in August 1999. Our son, David , was born on November 2, 1999. David was born in Cleveland, where we lived while I had a one year job at Oberlin College. Alex was born June 10, 2002 and will forever be a native Texan, after being born in Lubbock, Texas, where we spent two great years at Texas Tech.
We are now happily residing in Cary, NC, just outside of Raleigh and NC State. Evan was born January 21, 2006 in Cary. At some point, we decided that three red-haired boys was not enough and mixed things up on November 22, 2010, with Sarah a non-redhead, non-boy. Somehow, in addition to taking care of the boys and Sarah, Kim manages to single-handedly run Snapdragonsbaby.com, which has been growing nicely since its launch in January 2004.
I like to do a lot of things besides study political science; unfortunately, I don't get much time to. I enjoy jogging, playing with my kids, coaching David's soccer team, photography, and nature (especially birds). I always make time to follow Duke basketball. When time allows, I really enjoy reading about things other than politics (check out my recommendations). In another life, I might have been a professor of psychology, history, or biological anthropology, instead of Political Science.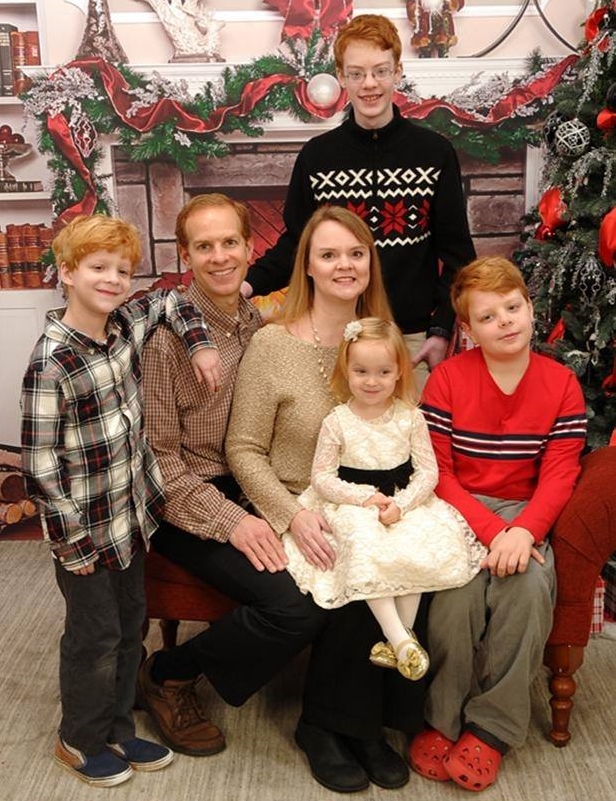 The whole Greene clan-- Christmas 2013.