FL 216 Course Description

An overview of the visual arts in France, defined broadly: painting, architecture, urban
design, photography, cinema, book production, gardens, fashion, cuisine, television, comic
books, magazines, everyday objects and their relationship to French culture and society.
France's national identity and cultural heritage is embodied in its rich tradition of visual
expression and France's contributions to the visual arts have had a profound global influence.
We will study the Neolithic cave paintings of southwestern France which mark the dawn of the
arts in Western culture, Roman architecture and design and its influence on French civilization,
the writing and illumination of Medieval manuscripts, the construction of castles and churches
in the Middle Ages, book production in the Renaissance, the building of the palace of
Versailles and its gardens, Romantic and Impressionist painting, the erection of the
Eiffel Tower, the invention of photography and cinema, the fashion industry, the
Surrealist revolution in Paris and its impact on popular culture, the aesthetics
of advertising and comic books.
This version of the course will be taught in France on the Paris & Burgundy 2009 study abroad
program. Site visits to towns, churches, castles, museums, etc. will thus highlight the subject matter
of the course. While the course schedule allows students time to relax, explore on their own, and
just enjoy being in France, keep in mind that this is an intensive course - 3 credit hours condensed
into two weeks. It is recommended that students get a head start on the reading
of the course materials before the trip begins.
No knowledge of French necessary.

This course fulfills the following
General Education Requirements
CHASS Arts & Letters
University Visual & Performing Arts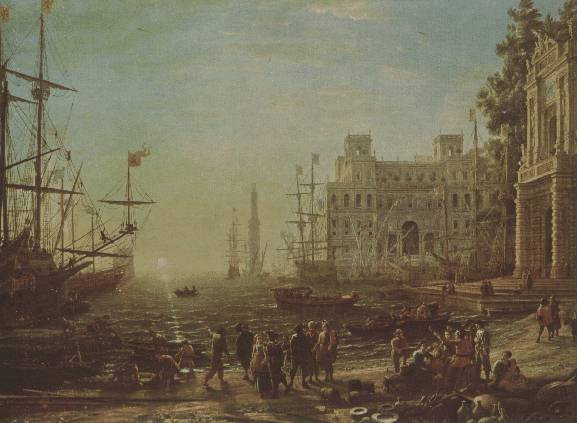 Claude Lorrain
Seaport, 1638